It has been along time since I last update this blog. I apologize as I have been pretty busy with my work and home :-) For those requesting for the vanilla frosting recipe, here it is. This is taken from marthastewart website and I have been using it for most of my cupcake frosting. Here, I use half butter and half shortening so that the frosting will not melt easily in our humid weather. However, you can replace the shortening with butter if you like.
I used the American cake for the cuppies :-)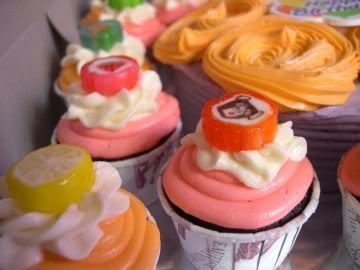 Vanilla Frosting
Makes 1 cup
Ingredients
25 gm unsalted butter, room temperature
25 gm butter flavoured shortening
2 cups icing sugar
2 tbsp milk
1 tsp vanilla extract
pinch of salt

Method
1. In a small bowl, beat together butter, sugar, milk, vanilla, and salt until light and fluffy. Use immediately, or cover with cling wrap, and refrigerate up to 3 days.
Before using, bring to room temperature.