This is one of a favourite during Hari Raya. You will see many homebakers selling this and lots of houses serving this during the muslim festive season. I think the main attraction is the nutella as young and old simply love the taste of this chocolate hazelnut spread ;-)

I got this recipe from Suria a malay channel in Singapore. Since this particular recipe uses lesser egg, I thought of giving it a try. Result is nice but I think there's way too much baking powder being used for the amount of flour in the recipe. I would recommend halfing it the next time.

I didn't follow the recipe to the T as I omitted the ovalette. I try to bake cakes without using emulsifier as I don't like the after taste of it - to me at least.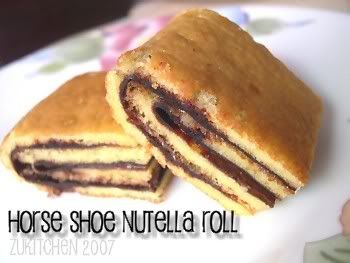 The original uses 1tsp ovalette. So if you are using it, you can put all the ingredients except the nutella and melted butter into the mixing bowl and mix it till it doubles in volume. Since I am not using emulsifier, a bit more steps are involved.

Ingredients
6 egg yolk
3 egg whites
50 g cake/plain flour
15 g corn flour
½ tsp baking powder
100 g castor sugar
50 ml fresh milk
1 tsp vanilla essence
75 ml melted butter
1 tbsp chocolate paste/emulco
Nugotin atau Nutella

Method
1. Pre-heat oven to 200C
2. Prepare 1 baking tray 10" x 10" x 2", line with grease paper
3. Melt Nugotin or Nutella using double boiling, bain-marie method till soft
4. Mix and sift flour, baking powder, cornflour.
5. Put eggs and sugar in the mixing bowl and mix it till it doubles in volume (the batter should be thick, shiny and light in colour) then add vanilla essence
6. Fold in flour alternately with milk with last being the flour into the batter and mix it gently
7. Pour melted butter and fold it gently
8. Scoop approximately 250g mixture and leave it plain
9. Add chocolate paste to the remainder and mix it well
10.Pour plain batter into a piping bag
11.Pour the chocolate batter into the pan
12.Pour the plain batter onto the chocolate batter
13.Bake in oven for 5 – 7 minutes only, do not overbake as cake may crack when rolled
14.When fully baked, take the cake out and cool it
15.Spread Nugotin/Nutella on the cake, and roll it from end to end
16.Cool it before cutting cake for serving