I am not exactly a nuggets fan but my kids do have them occassionally at the fast food joints. I have tried making my own but they always turn out a little on the soggy side until I tried this recipe which is originally taken off Berita Harian - our local malay paper. The recipe uses chicken wings but I opt for chicken chunks instead and add more spices to it. It's a fairly simple recipe and you can add whatever spice that you like.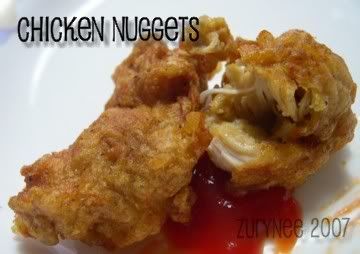 Here, the potato starch actually keeps the nuggets dry and the rice flour gives it a crunchy texture.
Ingredients
1 kg chicken fillets, cut into bite size
7 dried chillies
5 clove garlic
5cm ginger
1/2 T coriander powder
1 T garam masala or any spices you fancy
1 C rice flour
1 C potato starch
1 egg
1/2 tsp soda bicarbonate
salt & pepper to taste
oil for frying

Method
1. Blend dried chillies, garlic, ginger into paste
2. Mix blended paste with both flours, salt, pepper, egg and soda bicarbonate
3. Add chicken pieces into the batter and marinate it for about 30mins
4. Heat oil and deep fry chicken pieces till golden brown
5. Drain oil and serve with your favourite sauce

Enjoy !!