I finally made my own sausages!!!! Yay!! I have been wanting to make them for quite sometime but had a hard time looking for halal casings. After checking locally and the internet, I finally got it! Honestly, this is a pretty expensive sausages because I had to order the casings from Europe. But it's all worth it though. My family can enjoy their sausages free from preservatives and God knows what else they dump into it.


Here is the picture of the sausages I made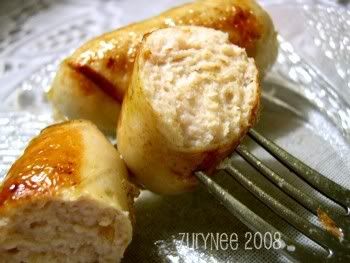 I didn't have the sausage stuffer so at first I tried using the funnel but give up halfway. It's too time consuming! I bought myself a cheap piping decoration set (will update photo later) as a backup and true enough, it was easier using that! After the stuffing, I left the sausages in the fridge overnight.

My stuffed raw sausages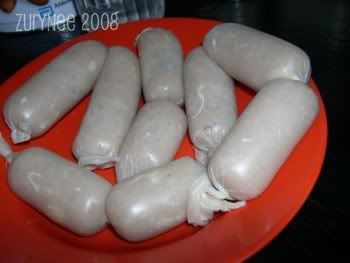 After which, I steamed them for about 10-15mins.

The cooked sausages (the meat turns white)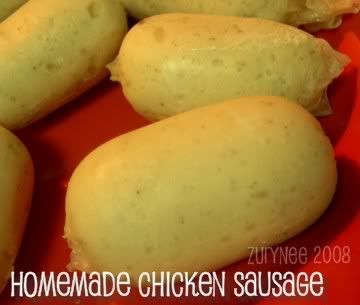 Then they are ready to be pan-fried either with butter or oil (I used olive oil).
Here is my simple trial chicken sausage recipe.
Note: For those who do not have the casing, you can use a plastic wrapper and shape the sausage mixure into a sausage. Tie the ends with kitchen string, leave it overnight in the fridge and then boil it till the meat cooks through and remove the plastic wrap before grilling/pan frying it. I haven't tried it personally but this is what I have read in some sausage recipes.
Ingredients
300-400g chicken fillet
1 medium onion
2 clove garlic
1 tsp garam masala
salt & pepper to taste
Enough sausage casings
Method
1. Blend all the above ingredients will paste like
2. Stuff the casings with carefully not to overstuffed them
3. Twists the filled casing into portions
4. Rest sausages in the fridge overnight
5. Steam the sausages
6. Once cool, you can freeze it or pan fried/grill and enjoy !