I got this recipe from the internet - indonesian website (sorry can't remember the site name) but modified it to suit my taste. To me this is more a layered sponge cake and taste wise, not too sweet. You can do variation like sprinkle shredded cheese or chips or dried fruit to make it interesting.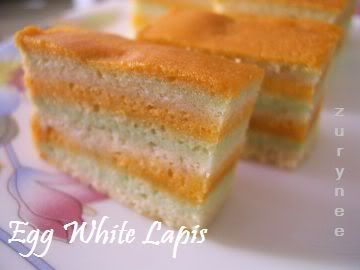 Ingredients
500g egg white
250g white sugar
250g plain flour }original is 300g plain flour
50g self-raising flour }
60ml evaporated milk (original is coconut milk)
100ml melted butter (original is oil)
1tsp vanilla essence (not in the original recipe)
a few drops of red and green colouring
4 pitted dates/prunes or slivered almonds for sprinkling on last layer

Method
1. Beat egg white till bubbly, add sugar little by little and beat till stiff
2. Sift in flour and gently stir into egg white mixture
3. Add milk and melted butter together and pour slowly into egg+flour mixture, mix slowly till well blended
4. Divide batter into 3 leaving one original and the other 2 with the respective colours
5. Pour one scoop batter into a lined and greased loaf baking tin and baked in a 175C preheated oven for 7-10min till brown
6. Change oven mode to grill and increase temperature to 200C
7. Pour 1 scoop of green and grill till the top turns slightly brown, then pour 1 scoop of red over the green. Repeat till you finished all the batter.
8. On the last layer, either sprinkle slivered almonds or prunes or date and grilled till brown then change the oven to baking mode and bake till cake is cooked.